Tags: apiedit, Visual edit

Line 1:
Line 1:
 

[[File:TheVault.jpg|thumb|250px|A [[Guardian]] accessing the Vault.]]

 

[[File:TheVault.jpg|thumb|250px|A [[Guardian]] accessing the Vault.]]

−

The '''Vault''' is a storage unit where a player can store [[weapon]]s, [[armor]], and items. A player's vault is accessible in both the [[Tower]] and the [[Vestian Outpost]]. It is shared by all [[Guardian]]s on a player's account, so it can be used to transfer loot between them. Currently,24 armor slots, 36 weapon slots, and 24 item slots are available.<ref>{{RefArticle|lastname=Destiny Dev Team|year=2015|url=https://www.bungie.net/7_Destiny-Update---04142015/en/News/News?aid=12773|title=Destiny Update - 04/14/2015|publisher=[http://www.bungie.net/ Bungie.net]|accessed=April 14, 2015}}</ref>

+

The '''Vault''' is a storage unit where a player can store [[weapon]]s, [[armor]], and items. A player's vault is accessible in both the [[Tower]] and the [[Vestian Outpost]]. It is shared by all [[Guardian]]s on a player's account, so it can be used to transfer loot between them. 24 armor slots, 36 weapon slots, and 24 item slots are available.<ref>{{RefArticle|lastname=Destiny Dev Team|year=2015|url=https://www.bungie.net/7_Destiny-Update---04142015/en/News/News?aid=12773|title=Destiny Update - 04/14/2015|publisher=[http://www.bungie.net/ Bungie.net]|accessed=April 14, 2015}}</ref>

 
 
 

==References==

 

==References==
---
Revision as of 19:22, 1 September 2015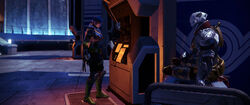 The Vault is a storage unit where a player can store weapons, armor, and items. A player's vault is accessible in both the Tower and the Vestian Outpost. It is shared by all Guardians on a player's account, so it can be used to transfer loot between them. 24 armor slots, 36 weapon slots, and 24 item slots are available.[1]
References
Community content is available under
CC-BY-SA
unless otherwise noted.