"Eris, get your rock, off my map."
-Cayde-6
Hi, I'm Tahu, a Destiny player and an editor of multiple Wiki's, I like to help out on editing the Destiny Wiki. I love to play Destiny, use my Stormtrance super, and play guys at the Crucible. Add me if you're on the Xbox One, I am Mr Rouge57.
Primary Class: Warlock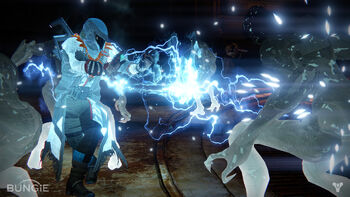 Primary Sub-Class: Stormcaller (My favorite sub-class, too!)
PvE/PvP Preference: PvE
Destiny Wiki Role: Giver of Destiny Lore/ Blogger/ Editor
Light Level: 302
Favorite Enemy Races: Vex and Taken
Favorite Strikes: The Sunless Cell and Shield Brothers
Favorite Destiny Expansion: The Taken King
Species: Exo
Exo Color: Purple
Wiki Friend(s): Derp2000 and Fujii
Favorite Patrol: Dreadnaught, Rings of Saturn
Favorite Raid: King's Fall
Favorite Primary Weapon Type(s): Auto Rifle/Hand Cannon.
Favorite Special Weapon Type: Shotguns
Favorite Heavy Weapon Type: Rockets
Favorite Video Game: Destiny
Favorite Destiny Vendor: Cayde-6
Favorite Destiny Boss: Oryx, The Taken King
Community content is available under
CC-BY-SA
unless otherwise noted.