Warning! The following information is conjecture and is not official or dependable.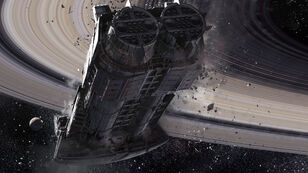 The Cassini was speculated to be the name of a derelict spaceship in Destiny and a location near Saturn to which players could travel in Destiny.
The name first appeared as the filename on a work of concept art on Bungie's official website, and Bungie hinted at the GDC 2013 Panel that derelict spaceships would be locations that can be explored by players.[1]
Article conjecture ends here.
The Cassini was cut from the final game.
References
[
]