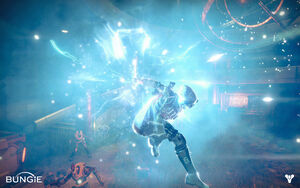 A subclass is a player class-specific, upgradeable, and interchangeable bundle of abilities and characteristics used by Guardians in Destiny. Subclasses are Destiny's primary vehicle for player progression and investment.
Subclasses are the primary method by which players upgrade and improve their characters.[1][2][3] Each subclass is a "bundle" of characteristics containing specific variations and versions of the following:
Subclasses are Player Class-specific.[2] A player can acquire multiple subclasses for a single character, and subclasses may be switched by the player at will.[2] Subclasses earn XP just like weapons and armor, allowing them to be customized and upgraded according to the player's choice.[2]
As the player earns XP, they may upgrade their subclass, unlocking various abilities within each branch of its particular tree.[2] Players may find that different subclasses—or different abilities within each subclass—are useful for different scenarios.[2]
Although some weapons and armor are more effective while using a particular subclass, particular subclasses do not require a player to use specific weapons or armor.[3]
Specific Subclasses
Edit
See Category:Subclasses for a list of all known Subclasses in Destiny.
Design and Inspiration
Edit
Subclasses are designed to allow players to become more versatile with their characters without having to create multiple new profiles.[2] Thus, players can have a single character that is equally useful in competitive multiplayer, Patrol, or a cooperative Raid simply by switching subclasses or abilities within a subclass.[2] Additionally, the ability to switch out weapons and armor regardless of subclass provides players the opportunity to further tailor their build for particular situations.[3]
In early pre-release builds, subclasses were called "focuses."[2] The name was changed just before the Destiny First Look Alpha that launched during E3 2014.[1]
References
Edit
↑ 1.0 1.1 destinygame (June 11, 2014) YouTube: Destiny: Official E3 Gameplay Experience Trailer 3:12. Retrieved June 11, 2014.
↑ 2.0 2.1 2.2 2.3 2.4 2.5 2.6 2.7 2.8 2.9 Miller, Matt. (January 2014 Print Edition) "A Player's Journey: Destiny". Game Informer. Retrieved 31 Dec. 2013.
↑ 3.0 3.1 3.2 3.3 Vore, Bryan. (2013-12-27) "The Character Progression of Destiny". Game Informer. Retrieved 31 Dec. 2013.