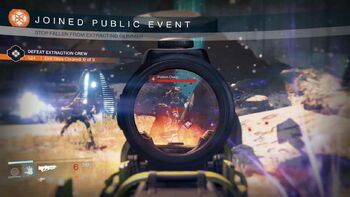 A Public Event is a global minigame in Destiny where players may participate in a specific objective in order to earn experience and loot.[1] Public Events appear at random in public areas where multiple fireteams may participate.
Known Public Events
Defeat the Extraction Crews at three different sites.
Defend the Warsat from waves of enemies.
Destroy the Fallen Iron Walker/Devil Walker.
Kill the enemy target before he reaches his destination.
Trivia
The first example of a Public event was "Fallen Assault" featured at Destiny's live demo during the Sony press conference at E3 2013. The event included multiple waves of Fallen enemies before a Fallen Devil Walker was dropped into the field.[1]
Gallery
Sources
↑ 1.0 1.1 IGN (2013) YouTube: Destiny Gameplay Revealed - E3 2013 Sony Conference 09:05. Retrieved 18 June 2013.