Old Russia, originally modern day Kazakhstan during the Golden Age,[1] is a toxic region located on Earth and a destination in Destiny.[2] The area is characterized by its orange, burnt grass steppes and a massive walled structure which was built for the purpose of protecting numerous colony ships fleeing Earth during the Collapse. Decrepit and rickety cars, some of which contain the remains of refugees who were attempting to escape the planet, are a frequent sight.
The inside of the Cosmodrome is overrun by the Fallen House of Devils. The dry terrain and dimly lit interiors of old buildings are a magnet for invading Fallen soldiers.[3] The Hive also occupy some regions within Old Russia.[4]
Main article: Strike
Main article: Raid
Locations
Edit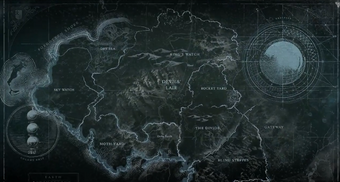 Concept Art
Edit
Screenshots
Edit
References
Edit
Community content is available under
CC-BY-SA
unless otherwise noted.