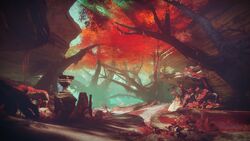 Nessus is a planetoid.[1] It is inhabited by Vex, who have transformed it almost entirely into a machine world.[1]
At some point during the Collapse, the colony ship Exodus Black crashed on Nessus. The only survivor was the ship's AI, Failsafe.[citation needed]
After Dominus Ghaul attacked The City, Cayde-6 fled to Nessus.[1] Some time after that, Emperor Calus' flagship arrived in orbit, and he began sending out invitations to Guardians to board it.
References
Edit
↑ 1.0 1.1 1.2 1.3 Bungie (2017) YouTube: Destiny 2 Gameplay Premiere – The Worlds of Destiny 2 Retrieved May 26, 2017.