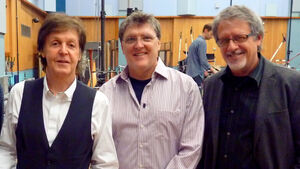 Martin O'Donnell (who goes by "Marty," "Marty the Elder," or "The Maestro") was Bungie's long-time Audio Director and is a legendary figure in the field of video game music and sound.[1][2] O'Donnell was the main composer for Destiny, along with his long-time recording partner Michael Salvatori and with contributions from world-renowned artist Paul McCartney.[3]
O'Donnell was a fan favorite, appearing often in public both on Bungie's official website and on panels, in interviews, and on social media.[3][4][5] One of Bungie's famed "Grizzled Ancients," O'Donnell also created the music for the Myth, Oni, and Halo games (with the exclusion of Halo 4 and Halo Wars).[1][2]
On April 16, 2014, O'Donnell announced he had left Bungie, claiming on Twitter that he had been "terminated without cause" on April 11, 2014;[6] Bungie said that the two parties had parted "as friends."[7] Pete Parsons, Bungie's chief operating officer, clarified that O'Donnell's music will remain in Destiny, and that his departure would not negatively impact the remaining development.[8]
Community content is available under
CC-BY-SA
unless otherwise noted.