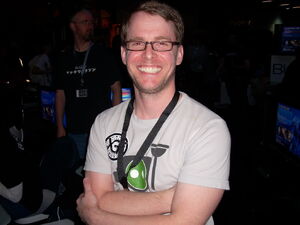 Joseph Staten ("Joe") is a former long-time Bungie employee.[1] A legend in video game design, Staten held lead roles in the creative process for numerous Bungie games in the past and was frequently seen onstage representing Bungie at video game and video game developer conferences and expos.
Though Staten might be widely recognized as the voice of the Grunts in the Halo series,[2] he was perhaps better known for his leadership at Bungie, deep creative talents, eloquent descriptions of elements of Bungie games, and his skill as a writer. His book based in the Halo universe, Contact Harvest, debuted to critical and reader acclaim and remained on the New York Times bestseller list for several weeks.[3]
Staten was the Creative Lead for Destiny for the majority of its development,[1] but he announced his departure from Bungie on September 24, 2013 in order to take on new challenges elsewhere.[4]
References
Edit
↑ 1.0 1.1  "Joseph Staten on LinkedIn". LinkedIn.com. Retrieved 24 Sep. 2013.
↑ Smith, Luke. (2007-05-10) "Halo: Contact Harvest". Bungie Inc.. Retrieved 24 Sep. 2013.
↑ Berardini, Cesar. (2007-11-19) "Halo: Contact Harvest Debuts on NY Times Bestseller List". TeamXbox.com. Retrieved 24 Sep. 2013.
↑ Dague, David. (2013-09-24) "It's been an honor". Bungie.net. Retrieved 24 Sep. 2013.
Community content is available under
CC-BY-SA
unless otherwise noted.