Fire Emblem Warriors: Three Hopes - The Loop
Play Sound
"Guardian… Guardian? Eyes up, Guardian!"
Guardians are the player characters of Destiny and Destiny 2. They are resurrected corpses of the Golden Age brought back to life by the Traveler's Light carried by a Ghost, an artificially intelligent flying robot that can assist the Guardian in tactical situations.[1][2] Guardians do not remember anything from their past life prior to resurrection, though they do possess their original left knee cap, which contains the DNA necessary to recreate their entirety in the next life. They are a standing army of specialized soldiers tasked with the defense of The Last City on Earth.[3] They are also responsible for exploring the remnants of human civilization abandoned throughout the solar system and investigating the remains of their Golden Age.[3] Guardians wage a vicious armed conflict against a myriad of extraterrestrial species who pose an immediate threat to the survival of humanity.[3] The greatest source of the Guardian's power lies in their ability to harness the energy of The Traveler and use it as a weapon against their opponents.[3]
Species
[
]
When creating their character, players may choose to make their Guardian one of three species. Species is a purely cosmetic choice for players, affecting only appearance and not gameplay.[3][1][2]
Classes
[
]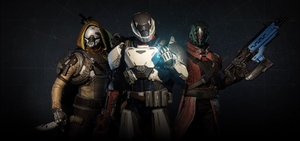 Players choose to play as one of three different Guardian classes.[4][5][6] Though each Guardian class in Destiny has a distinct appearance, dress, and skill set, Guardian classes are designed to be balanced, with no class intended to be clearly better overall than any other.[7] A player may choose to be any class, regardless of species, but each class can only access certain armor, subclasses, and abilities.[1][2] Weapons are not typically class-restricted; any class can use most weapons.[2]
Notable Guardians
[
]
For a full list of Guardians, please visit Category:Guardian Characters.
Titans
[
]
Hunters
[
]
Warlocks
[
]
Unspecified
[
]
Gallery
[
]
References
[
]