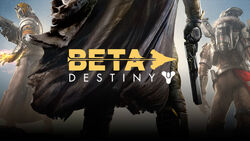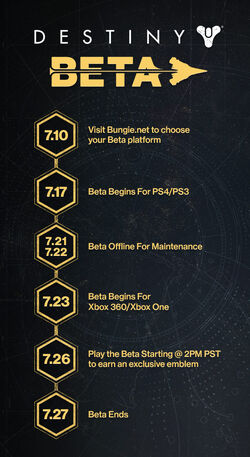 The Destiny Public Beta was a free, open-to-all beta test of Destiny, available for all platforms on which Destiny will initially launch. The Beta encompassed most of the major game modes and activities that would be available in the final game.[1] An Xbox Live Gold subscription was required to download and play on Xbox platforms.[1] PlayStation Plus is required to form a Fireteam or engage in competitive multiplayer on Playstation platforms.[2]
Access
[
]
From the beginning of the Beta until July 24, 2014, access to the Beta was available to those who had pre-ordered a copy of Destiny through participating retailers.[1] Bungie also gave away Beta access codes on its website, on its social media accounts, through community sites (such as Destiny Wiki), and as contest rewards.[3][4][5] Persons who had pre-ordered the full game could obtain one redemption code to access the Beta, each of which could be redeemed for 3 download codes on a specified platform.[1]
Timing
[
]
The Destiny Public Beta began on July 17, 2014 for the PlayStation 3 and PlayStation 4 platforms,[6] before going offline for maintenance on July 21 and 22. On July 22, maintenance was completed ahead of schedule,[7] and the Beta became available for Xbox 360 and Xbox One platforms, which were originally scheduled to gain access on July 23.[8] On July 24, 2014, Bungie opened the Beta for free download to all players on all platforms, with no code redemption necessary.[9] The Beta officially closed on July 27 at 6:30pm PDT.[8][10]
Rewards
[
]
Players who played the Beta on July 26, 2014, beginning at 2:00 PM Pacific Daylight Time, earned an exclusive emblem for the retail version of Destiny.[1]
Trivia
[
]
The time period for the Beta, which was originally announced for "early 2014,"[11] was pushed back to coincide with Destiny's delayed launch date.[12]
Destiny is compatible with all PS3, PS4, Xbox 360, and Xbox One consoles except for the following systems due to Destiny's hard drive requirement:[1]

Xbox 360 Arcade Console
Xbox 360 4GB Console
Xbox 360 Core System
PlayStation 3 12GB System
Gallery
[
]
Videos
[
]
References
[
]
↑ PlayStation.com "Destiny Beta Information". Retrieved Jul 18, 2014.
↑ Twitter.com "Twitter/DesinyWikia: #destinybeta codes incoming!". Retrieved 13 July 2014.
↑ Facebook.com "Pumpkins of Legend". Retrieved 12 Jan. 2014.
↑ Dague, David. (2013-10-18) "Bungie Weekly Update - 10/18/2013". Bungie Inc..
↑ destinythegame.com "Destiny Beta". Retrieved June 09, 2014.
↑ Mahardy, Mike. (Jul 22, 2014) "Destiny Beta Back Online, Available for Xbox". IGN. Retrieved Jul 22, 2014.
↑ 8.0 8.1 Dague, David. (7 July 2014) "The Destiny Beta". Bungie Inc.. Retrieved 13 July 2014.
↑ Dague, David. (2014-07-24) "Destiny Beta: All Access". Bungie Inc.. Retrieved 24 July 2014.
↑ Bungie (27 July 2014) "Twitter / Bungie". Retrieved Jul 27 2014.
↑ Dague, David. (2 Oct. 2013) "Destiny BETA - Early 2014". Retrieved 2 Oct. 2013.
↑ Dague, David. (2013-12-6) "Destiny Launch Date". Bungie Inc..
See also
[
]