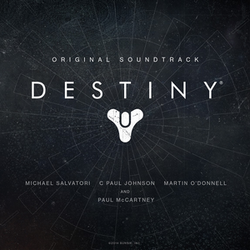 The Destiny Original Soundtrack is the official soundtrack for Destiny, composed and directed by Martin O'Donnell, co-written by Michael Salvatori and C. Paul Johnson, with contributions and input from famed Beatle's member Paul McCartney. Released digitally on September 26, 2014 by Bungie Music Publishing, Destiny OST features forty-four instrumental tracks from the game.[1]
The album marks Martin O'Donnell's final work with Bungie after years of compositions on the Halo series as an employee, and titles pre-dating that franchise. Additionally, Paul McCartney wrote and recorded an original song inspired by the game and plans to release it as a single later in 2014.[1]
Production History
Martin O'Donell was contacted by Pete Parsons early in Destiny's development and asked him to begin writing music for the game. At the time, Destiny was still in its infancy, lacking any gameplay material for O'Donell to score the music to, so he began writing based solely on the game's ideas, stories and artwork.[2] As of February 17, 2013, over 50 minutes of the soundtrack had already been recorded with a 106 piece orchestra at Abbey Road Studios in London.[3] O'Donell gave the early pieces to Bungie in hopes of fostering inspiration within its development team.[2] Unlike the 2-3 minute pieces found in Halo, Marty has stated that the soundtrack has no time restrictions, with pieces clocking in "as long as they need to be."[3]
O'Donnell collaborated with Paul McCartney on Destiny's music for the better part of two years, trading ideas, samples of melody and themes back and forth.[2] Before the soundtrack was released, Martin O'Donnell was terminated by Bungie's board of directors without cause on April 11, 2014,[4] but Pete Parson assured that his work would remain in the final version of the game.[5]
Tracks
#
Track title
Time
1
"The Traveler"
2:30
2
"The Fallen
4:36
3
"Excerpt from the Hope"
2:16
4
"Excerpt from the Ecstasy"
2:10
5
"The Warmind"
2:09
6
"Guardian"
2:08
7
"The Tower"
1:19
8
"The Last Array"
6:57
9
"The Collapse"
1:33
10
"The Journey Home"
3:08
11
"First Challenge"
3:45
12
"Prey"
2:13
13
"Tranquility"
5:08
14
"The Great Unknown"
1:34
15
"Excerpt 1 from the Rose"
1:23
16
"Excerpt from the Tribulation"
2:14
17
"Guardians Lost"
3:49
18
"Relic of Hope"
2:14
19
"Departure"
2:00
20
"Lost Horizons"
2:09
21
"Reborn"
3:34
22
"Sepiks Prime"
4:13
23
"Traveler's Promise"
1:56
24
"Deconstruction"
1:42
25
"Excerpt from the Ruin"
1:36
26
"Untold Legends"
3:34
27
"Cabal Stomp"
3:40
28
"Dust Giants"
4:28
29
"Ishtar Sink"
4:43
30
"The World's Grave"
5:36
31
"Exclusion Zone"
3:48
32
"The Stranger"
1:11
33
"Temple of Crota"
5:16
34
"Eye of the Gate Lord"
4:01
35
"The Hive"
5:46
36
"The Collective"
4:11
37
"End of the Line"
3:31
38
"The Vex"
5:13
39
"Siege Dancers"
3:16
40
"Chronologies"
3:32
41
"Passage"
3:22
42
"Excerpt 2 from the Rose"
2:46
43
"Excerpt from the Union"
1:45
44
"All Ends Are Beginnings"
1:33
Total running time: 2:18:28
Trivia
A track titled "Eighth" was the very first piece of Destiny-related music released by Bungie, immediately after the completion of the Alpha Lupi ARG. In addition, Destiny ViDoc: Pathways Out of Darkness included an additional piece of music, colloquially referred to as "Reveal". On July 6, 2013, in celebration of Bungie week, the track "Awakening'" was released. However, these are not included in the playlist.
References
↑ 1.0 1.1 Futter, Mike. (2014-9-26) "Destiny Soundtrack Now Available From iTunes". GameInformer.com. Retrieved 27 September 2014.
↑ 2.0 2.1 2.2 McWhertor, Michael. (Feb. 17, 2013) "Bungie Composer Marty O'Donnell on the Music of Destiny, Collaborating with Paul McCartney". Polygon.com. Retrieved July 26, 2013.
↑ 3.0 3.1 McCaffrey, Ryan. (2013) "Bungie's Destiny: A Land of Hope and Dreams". IGN. Retrieved 20 February 2013.
↑ , Pramath. (17 April. 2014) "Bungie Insists Destiny is on Track". GamingBolt.com. Retrieved 18 April. 2014.
Community content is available under
CC-BY-SA
unless otherwise noted.