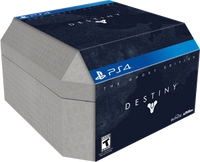 Become Legend with the
Destiny
Ghost Edition
― Tagline
The Destiny Ghost Edition is the premier collector's edition of Destiny which costs $149.99 USD (£149.99 GBP).[1] The set is the second-tier physical limited edition version of Destiny and was released on September 9, 2014 for PlayStation 4, PlayStation 3, Xbox One and Xbox 360.[2] Bungie has stated that the bundle had a "truly ... limited production run and availability,"[1] leading it to sell out quickly and become very rare and expensive on the secondhand market.
Official Description
Edit
This is your
Ghost
. It sought you out for centuries. It found you, dead and forgotten in the ruins of our civilization's violent Collapse, and it brought you back to life to protect us all. Defend our home, drive back the forces of
the Darkness
, find a way to awaken the
Traveler
, and Become Legend.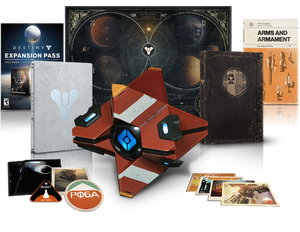 Limited Edition SteelBook™ Case and Game Disc
Ghost Replica: This is your motion-sensing Ghost, featuring lights and audio from the game. May it lead you through the Darkness.
Letter of Introduction: These worlds were once ours. If you accept your destiny, you will be asked to do the impossible.
Golden Age Relics, which include a Patch, Sticker, and two Chrome slides of the Traveler
Guardian Folio, containing:

"Arms and Armament" Field Guide: Many believe the weapons and armor featured in this record are a myth. You will learn the truth.
Postcards from the Golden Age: Our worlds have been claimed by our enemies. Now, it's time to take them back.
Antique Star Chart: Explore the wild frontiers of our solar system. Discover all that we have lost.

Collector's Edition Digital Content: The City has provided you with a cache of items to start you on your journey, including:

A Unique Ghost Casing
An Exclusive Player Emblem
Destiny Expansion PassEdit
Main article: Destiny Expansion Pass
The Destiny Ghost Edition also includes the Destiny Expansion Pass.
Vanguard Armory
Edit
Main article: Vanguard Armory
As an added incentive to pre-order, players gained early access to the Vanguard Armory which included nine weapons, three helmets and an emblem.[3] According to the Bungie, these items are attainable through gameplay for those that chose not to pre-order.[4]
Supply Issues
Edit
The Destiny Ghost Edition became a highly sought after product from the moment it was announced and quickly sold out across nearly all available retailers.[5][6] Due to a large quantity of pre-orders, multiple retailers began experiencing supply shortages and as a result, some pre-orders were cancelled; Amazon, Best Buy and Walmart[7] are among some of those retailers.
Shortly after, pre-ordered copies of the Destiny Ghost Edition began selling on auction websites, such as eBay, with bids starting at $300 and exceeding $400.[8] Some completed auctions have gone for $650 and even as high as $1,025 USD.[8]
References
Edit
↑ 1.0 1.1 McCaffrey, Ryan. "Destiny Beta Dates Announced, Collector's Editions Revealed and Unboxed -- IGN First". IGN. Retrieved Jul 10, 2014.
↑ Amazon.com "Amazon.com: Destiny Ghost Edition".
↑ destinythegame.com "Destiny Vanguard Armory". Retrieved Jul 11, 2014.
↑ DeeJ (Jul 7, 2014) "Destiny for Collectors". Bungie.net. Retrieved Jul 10, 2014.
↑ Griffith, Austin. (Jul 7, 2014) "Amazon is already sold out of Destiny's Ghost Edition". LevelSave.com. Retrieved Aug 30, 2014.
↑ @Bungie (Jul 8, 2014) "Bungie: Rumor has it that sightings ...". Twitter. Retrieved Jul 11, 2014.
↑ Haas, Pete. (Jul 24, 2014) "Destiny Ghost Edition Pre-Orders Being Cancelled". CinemaBlend.com. Retrieved Aug 30, 2014.
↑ 8.0 8.1 Albert, Brian. (Aug 4, 2014) "You Can Sell Your Destiny Ghost Edition for Hundreds on eBay". IGN. Retrieved Aug 30, 2014.
Community content is available under
CC-BY-SA
unless otherwise noted.