m

Line 12:
Line 12:
 

== Trivia ==

 

== Trivia ==

 

[[File:Destiny Alpha download ready.png|thumb|250px|6.7GB]]

 

[[File:Destiny Alpha download ready.png|thumb|250px|6.7GB]]

−

* The Alpha was exactly 6.7[[wikipedia:Gigabyte|GB]].

+

* The Alpha was 6.7[[wikipedia:Gigabyte|GB]].

 

* [[Evan Nikolich]], a designer for ''Destiny'', revealed that the Alpha was less than 10 percent of the actual game's content.<ref>{{RefArticle|lastname = @EvanNikolich|year = June 15, 2014|url = https://twitter.com/EvanNikolich/statuses/478217469023100930|title = '''EvanNikolich''': The Destiny Alpha is less than ...|publisher = Twitter|accessed = June 22, 2014}}</ref>

 

* [[Evan Nikolich]], a designer for ''Destiny'', revealed that the Alpha was less than 10 percent of the actual game's content.<ref>{{RefArticle|lastname = @EvanNikolich|year = June 15, 2014|url = https://twitter.com/EvanNikolich/statuses/478217469023100930|title = '''EvanNikolich''': The Destiny Alpha is less than ...|publisher = Twitter|accessed = June 22, 2014}}</ref>

 

* Bungie revealed that the alpha testing period of ''Destiny'' logged exactly 6,461,871 games since it launched on June 12. Other in-game statistics were:<ref>{{RefArticle|lastname = DeeJ|year = June 20, 2014|url = http://www.bungie.net/en/News/News?aid=11589|title = Bungie Weekly Update - 06/20/2014|publisher = Bungie.net|accessed = June 21, 2014}}</ref>

 

* Bungie revealed that the alpha testing period of ''Destiny'' logged exactly 6,461,871 games since it launched on June 12. Other in-game statistics were:<ref>{{RefArticle|lastname = DeeJ|year = June 20, 2014|url = http://www.bungie.net/en/News/News?aid=11589|title = Bungie Weekly Update - 06/20/2014|publisher = Bungie.net|accessed = June 21, 2014}}</ref>

Line 19:
Line 19:
 

** 4,002,737 [[Heavy Weapon]] kills

 

** 4,002,737 [[Heavy Weapon]] kills

 

** 21,687,298 [[Super Ability]] kills

 

** 21,687,298 [[Super Ability]] kills

−

** 2,819,211 Orbs of [[Light]] gathered

+

** 2,819,211 Orbs of Light]] gathered

 

** 6,850,773 [[Control]] points captured in the [[Crucible]]

 

** 6,850,773 [[Control]] points captured in the [[Crucible]]

 

** 1,195 Deathless Medals awarded in the Crucible

 

** 1,195 Deathless Medals awarded in the Crucible
---
Revision as of 19:54, 26 June 2014

The Destiny First Look Alpha[1] was the alpha build of Destiny available to the public for testing originally from June 12 to June 15 of 2014, and extended for one day to introduce some ""dangerous" new experiments.[2] During the week of E3 2014, PlayStation 4 owners with PlayStation Plus membership were able to register for the alpha test at GreatnessAwaits.com.[3] The deadline for registration was June 11. Codes for the alpha testing were delivered the following day, via an on-console message and an email to the email address associated with the PlayStation Network ID entered,[1] at 12 noon PST.[1] Bungie confirmed the alpha would be open to all those who registered.[4] Players who had already played an earlier alpha test did not have to wait for a new email invitation; this access carried over into the latest alpha phase.[5]
Overview
The alpha test allowed players to create a character from one of Destiny's three player classes. Once inside the alpha, players started at level 4 and could earn XP to level up and earn new abilities, and advance all the way up to level 8. Alpha players could undertake story-based missions throughout Earth either by themselves or with online companions. Area exploration was possible, along with the acquisition of side quests from these areas. The Crucible, the game's competitive multiplayer, was also available.
Characters created in the Alpha will not be able to continue onto the next phase of testing.[6]
Trivia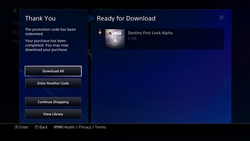 The Alpha was 6.7GB.
Evan Nikolich, a designer for Destiny, revealed that the Alpha was less than 10 percent of the actual game's content.[7]
Bungie revealed that the alpha testing period of Destiny logged exactly 6,461,871 games since it launched on June 12. Other in-game statistics were:[8]

149,522,313 Primary Weapon kills
21,782,610 Secondary Weapon kills
4,002,737 Heavy Weapon kills
21,687,298 Super Ability kills
2,819,211 Orbs of Light gathered
1,195 Deathless Medals awarded in the Crucible
4,356 Splatters with the Sparrow
667,966 Public Events joined
60,491,944 Fallen Dregs "dispatched with Extreme Prejudice"
See Also
References
↑ 1.0 1.1 1.2 PlayStation.com "PlayStation Greatness Awaits Destiny Alpha Registration and Info". Retrieved June 14, 2014.
↑ @Bungie (June 16, 2014) "Bungie: There's a rumor that the #Destiny ...". Twitter. Retrieved June 16, 2014.
↑ PS4 GreatnessAwaits "Destiny Alpha FAQ". Retrieved June 14, 2015.
↑ @GuardiansofD (June 11, 2014) "GuardiansofDestiny: Just confirmed with @DeeJ_BNG ...". Twitter. Retrieved June 14, 2014.
↑ Haas, Peter. (June 11, 2014) "Destiny PS4 Alpha Test Launches Today, Everyone Will Get Invites". CinemaBlend.com. Retrieved June 14, 2014.
↑ @Bungie (June 15, 2014) "Bungie: Alpha Characters will not survive ...". Twitter. Retrieved June 20, 2014.
↑ @EvanNikolich (June 15, 2014) "EvanNikolich: The Destiny Alpha is less than ...". Twitter. Retrieved June 22, 2014.
↑ DeeJ (June 20, 2014) "Bungie Weekly Update - 06/20/2014". Bungie.net. Retrieved June 21, 2014.
Community content is available under
CC-BY-SA
unless otherwise noted.