Destiny 2: Forsaken – Official Reveal
Play Sound
Destiny 2 is a MMORPG looter game like Warframe or Diablo. The game released on September 6, 2017 for PlayStation 4 and Xbox One and on October 24, 2017 for PC[2] on the Battle.net platform.[3] It's the sequel to the Destiny game and the second game in the Destiny series.[4]
An open beta was held for PlayStation 4 and Xbox One in July 2017, and then again in August for PC.[2] The game released on Steam and Google Stadia on October 1st, 2019, coinciding with the release of Shadowkeep.
A free version known as Destiny 2: New Light was released alongside the launch of Shadowkeep.
Synopsis
Dominus Ghaul, believing that the Cabal Red Legion deserves The Traveler's power,[5] attacks the City, stripping the Guardians of their powers and forcing them to flee.[6]
A Guardian is tasked with finding and reuniting the three members of the Vanguard: Zavala, who fled to Titan; Ikora Rey, who fled to Io; and Cayde-6, who fled to Nessus.[7] Along the way, the Guardian must reclaim their lost power in order to take back the City.[7]
Major Gameplay Changes
Weapon slots are Kinetic, Energy, and Power. Kinetic and Energy hold the same weapon types; the difference is that Energy weapons have damage types. Fusion Rifles, Sniper Rifles, Rocket Launchers, and Shotguns fit into the Power weapon slot.[8]
The melee and miscellaneous subclass perks are located in sets of four, which cannot be mixed and matched. Players must choose between one set of four perks or another.[9] Grenades, jump modifier, and class ability modifier can be changed regardless of the perk set chosen.
Matchmaking is enabled for end-game content using the Guided Games feature, which matches solo players who are looking for a group with Clans who are hosting a group.[10]
Players can start a new activity or go to a new location right where they are without going to orbit first.[7]
Content
Story Missions
Strikes
Raids
Destinations
Crucible Maps
New Subclasses
Launch Editions
Standard Edition
$59.99 USD
Destiny 2 base game
Limited Edition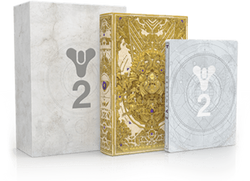 $99.99 USD
Destiny 2 base game
Destiny 2 Expansion Pass (includes Expansion I and Expansion II)
Limited Edition SteelBook Case
Cabal-themed Collector's Box, containing:

Booklet with secrets of the Cabal Empire
Cabal Schematic
Collectible Postcard Images
Cabal Military Pawns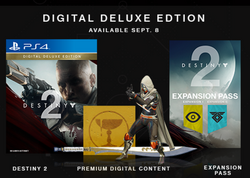 Premium digital content:

Legendary Sword
Legendary Player Emote
Cabal Empire-themed Emblem
Digital Deluxe Edition
$99.99 USD
Destiny 2 base game
Destiny 2 Expansion Pass (includes Expansion I and Expansion II)
Premium digital content:

Legendary Sword
Legendary Player Emote
Cabal Empire-themed Emblem
Collector's Edition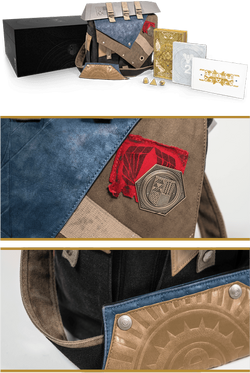 $249.99 USD
Destiny 2 base game
Destiny 2 Expansion Pass (includes Expansion I and Expansion II)
Destiny 2 Frontier Bag

Customizable bag that can be worn as a backpack or messenger bag
15" Laptop/Tablet Sleeve with protective pocket slip

Frontier Kit, which includes:

Solar panel USB charger with built-in light
Paracord
Solar blanket

Limited Edition SteelBook Case

Booklet with secrets into the Cabal Empire
Cabal Schematic
Collectible Postcard Images
Cabal Military Pawns

Premium digital content:

Legendary Sword
Legendary Player Emote
Cabal Empire Themed Emblem
Pre-Order Bonuses
Those who pre-order any edition of Destiny 2 will receive early access to the following items in-game:[11]
[11]
Trivia
Media
Art
Screenshots
Gear
Environment
Videos
References
External Links